Thinkers Lodge and The Centre for Local Prosperity present Climate Change Retreat #3: Climate Change Youth Retreat
MEDIA ADVISORY – Issued June 27, 2019:
Climate emergency brings youth leaders to Pugwash: Public address by regional youth and ceremonial tree planting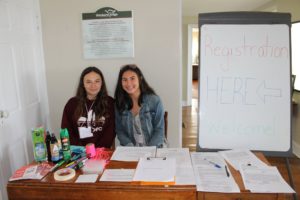 Pugwash, Nova Scotia: On Sunday, July 28th at 12:00 noon, youth from across Atlantic Canada will be planting a red oak tree at the Thinkers Lodge in Pugwash, Nova Scotia as a symbol of their commitment to fighting climate change and protecting the planet for the next seven generations. This public and media event culminates an intensive 3-day youth retreat, and will be accompanied by speeches from the youth on the importance of acting on climate change, chants, art, and rallying cries to action.
One of the youth organizers, Lily Barraclough says, "When I think about my future, all I see is climate catastrophe. If we don't act now, my generation, and those to come are being robbed on any chance at a normal life. We feel like we don't have the luxury of making decisions about what to do for our future, because our future looks pretty grim, and we don't want that for anyone else." This is why these youth are planting a tree that will live forward and protect the generations after them into a more prosperous and sustainable future.
From July 25-28, twenty youth Thinkers from across Atlantic Canada will be gathering for intense and brave discussions about the intersectionality of climate change with social and economic justice, the roots of climate change in systemic oppression of marginalized communities, incorporating art into the climate justice movement, approaching climate justice through a lens of decolonization, and learning from each other to build relationships and a stronger climate justice movement.
Their invitation – Come help us celebrate the work that we are doing, and help us push it forward to ensure the necessary action is taken by all levels of government to protect our future! As Greta Thundberg so appropriately states "I want you to act as if the house is on fire, because it is".
This youth retreat on climate change is co-hosted by the Centre for Local Prosperity (CLP, centreforlocalprosperity.ca) and the Thinkers Lodge (thinkerslodge.org). The Thinkers Lodge is a National Historic Site for the 1957 Pugwash Conference on Nuclear Proliferation. Together with CLP, the Lodge has continued the 'Pugwash Mission' as a critically potent venue for topics posing an existential threat to humankind – such as the climate emergency.
Lily Barraclough: 416-898-8664; lily.barraclough@gmail.com
Cadence Steeves: 902-397-0838, scel394595@gnspes.ca
Tracy George: 902-302-0791, tracygeorge05@gmail.com